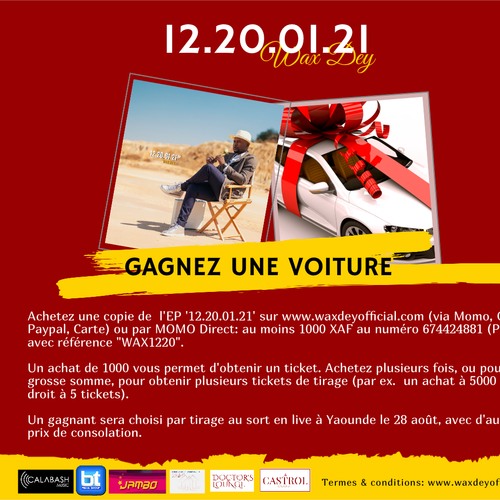 GAGNEZ UNE VOITURE
Achetez une copie de  l'EP '12.20.01.21' sur www.waxdeyofficial.com (via Momo, OM, Paypal, Carte) ou par MOMO Direct: au moins 1000 XAF au numéro 674424881 (Prisca) avec référence "WAX1220".
Un achat de 1000 vous permet d'obtenir un ticket. Achetez plusieurs fois, ou pour un grosse somme, pour obtenir plusieurs tickets de tirage (par ex.  un achat à 5000 donne droit à 5 tickets).
Un gagnant sera choisi par tirage au sort en live à Yaounde la fin du mois de septembre, avec d'autres prix de consolation.
Le challenge est valable jusqu'au 28 août. Le prix de la voiture ne sera remis qu'après au moins 5000 achats.
WIN A CAR
Buy a copy of the EP '12.20.01.21' on waxdeyofficial.com (set your price and pay with Momo, Paypal, Debit or credit card) or via direct MOMO by sending at least R1000 to 674424881 (Prisca) with reference: Wax1220 
A purchase of 1000 permits you to get one entry ticket for our raffle draw. Multiple purchases get multiple tickets. You can also buy for a higher price to get more tickets eg 5000F for 5 tickets.
1 winner will be chosen by raffle draw during a live music show in Yaounde at the end of Spetember, and that person will walk away with a car. Several consolation prizes will be given.
Challenge runs till 28 August. Car will only be given out after at least 5000 purchases.