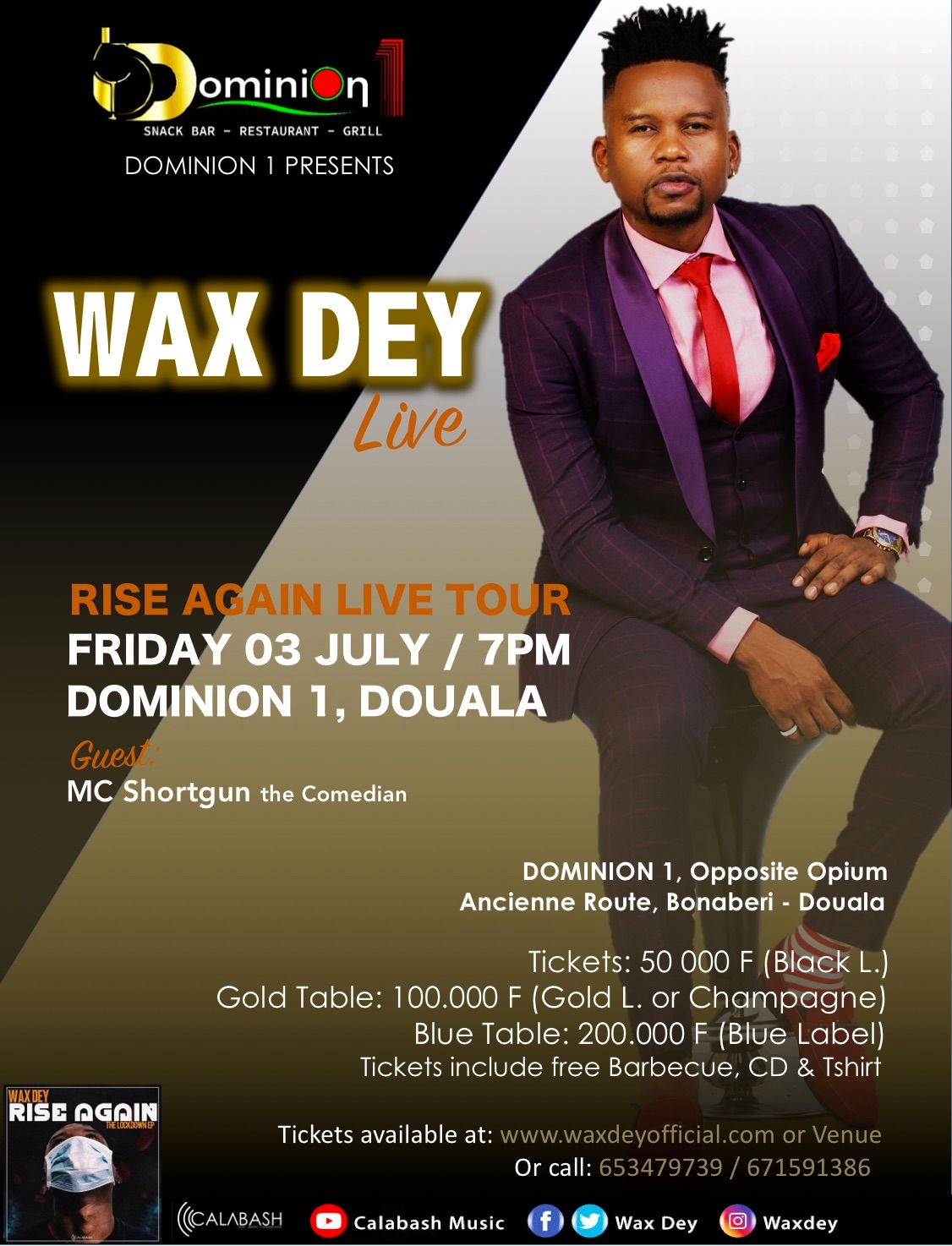 Award-winning Cameroonian artist Wax Dey will be kicking off the RISE AGAIN Live Music Tour this Friday 03 July at 7pm, at Dominion 1, Bonaberi in Douala Cameroon.
This will be the first in a series of live music events to launch of the RISE AGAIN EP, Cameroon's fastest selling EP/Album. Two hashtags linked to the sale of the EP have held No1 and No 2 Twitter trending spots in Cameroon for 4 days consecutively - #Waxdeychallenge and #RiseAgain. 
The EP of six songs was written and recorded during the Covid-19 lockdown and explores themes related to culture, pride, identity and the role of African youth in building a stronger continent after the pandemic. The tour is expected to culminate on August 12 (International Youth Day) with the release of a 'Rise Again' music documentary and an international digital conference, run in partnership with Local Youth Corner Cameroon.
The RISE AGAIN Tour allows limited persons into the venues to permit social distancing, and enforces hygienic measures and facial masks. 
...
L'artiste camerounais Wax Dey lancera la RISE AGAIN Live Music Tour ce vendredi 03 juillet à 19h, au Dominion 1, Bonaberi à Douala au Cameroun.
Ce sera le premier d'une série d'événements musicaux avec comme but de lancer l'EP RISE AGAIN, qui connait actuellement un grand succès au niveau national. Deux hashtags liés à la vente de l'EP occupent les spots de tendances Twitter No1 et No2 au Cameroun pendant 4 jours consécutifs - #Waxdeychallenge et #RiseAgain.
L'EP de 6 chansons a été écrit et enregistré pendant le confinement dû au Covid-19 et explore des thèmes liés à la culture, la fierté, l'identité et le rôle des jeunes africains dans la construction d'un continent plus fort après la pandémie. La tournée devrait culminer le 12 août (Journée internationale de la jeunesse) avec la sortie d'un documentaire musical «Rise Again» et d'une conférence numérique internationale, organisée en partenariat avec Local Youth Corner Cameroun.
Le RISE AGAIN Tour accepte un nombre limité des personnes dans les salles, pour permettre une distanciation sociale, et applique des mesures d'hygiène prescrites et le port des masques.